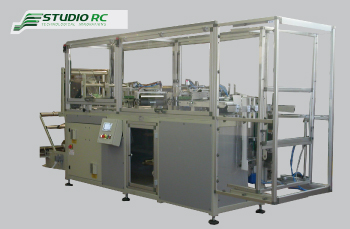 This machine, starting with a reel of cellophane, polypropylene or similar material, after various working phases produces bags.
The reel is unwound by means of opposing rubber rollers that provide a feed rate that can be set in the program.
The first phase consists in forming the tube, sealed along its length at a set width; this then arrives at the sealing unit where a crosswise seal is made and then immediately afterwards the bags are cut into lengths according to the program setting; moving along a conveyor belt the bags reach the magazine where they are subsequently stacked in the quantities required, ready for the operator to pick them up.