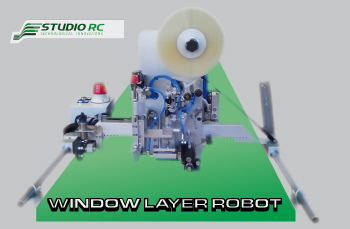 Based on twenty years' experience of satisfying customer requirements and as a result of numerous requests from box makers, we have built a Robot able to apply larger size windows also on the lid of the box.
TECHNICAL DATA
- electrical system conforming to standards controlled by PLC
- max 40 windows per minute production speed
- reel film width from 40 to 100 mm
- film length max 120 mm
- pneumatic system working pressure 4-5 bar
- ROBOT height 580 mm
- transverse adjustment on conveyor belt for window, 100 mm per side in relation to belt axis
- ROBOT width on gluing machine belt adjustable from 550 to 750 mm
- lengthwise positioning adjustable by 700 mm
- accident prevention devices.
NB: On request, the unit can be rotated through 90°.